In order to use Three-state workflow, you must add it to a list before you can use it on items in that list. When you add a Three-state workflow to a list, you specify which column in the list contains the state values that you want the workflow to track. You can also specify information about what you want to occur at each stage of the workflow. For example, you can specify the subject and text for the e-mail alerts that task recipients receive.
Note*** You must have the Manage List permission to add a workflow to a list.
1. Open the list which you want to add a Three-state workflow. From the custom list, in the ribbon, click the [List] tab and then click [List Settings], or click the settings for the type of library that you are opening.

2. Go to [Permissions and Management], click [Workflow Settings].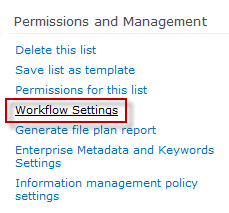 3. If you already have workflow list added to this list or content type, it will directly take you to the change Workflow Settings page, and you need to click [Add a workflow].

4. On the [Add a workflow] page in the [Workflow] section, click [Three-state] under Select a workflow template.
5. Create a name for the name section then specify a task list to use with the workflow.
6. In the [History List] section, select a history list to use with this workflow. The history list displays all of the events that occur during each instance of the workflow.
7. In the [Start Options] section, you can either
o If you choose workflow to start manually, select the [Allow this workflow to be manually started by an authenticated user with Participate permissions] check box. Select the [Require Manage Lists permission to start the workflow] checkbox if you want to require additional permissions to start the workflow.
o If you want the workflow to start automatically when new items are created, select the [Start this workflow when a new item is created] check box.
Then click [Next].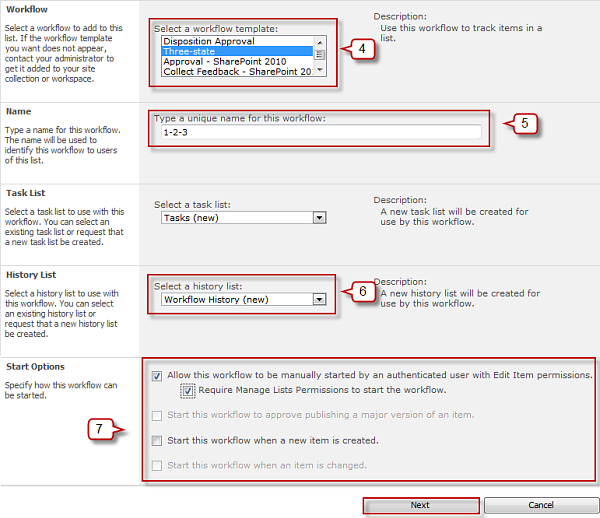 8. In the [Workflow states], under [Select a 'Choice' field], select the [Choice] column from the list that contains the values that you want to use for the states in your workflow, and then select the column values that you want for the Initial state, Middle State, and Final state of the workflow.

9. In the two sections Specify what you want to happen when a workflow is initiated (options for the first task in the workflow) and Specify what you want to happen when a workflow changes to its middle state (options for the second task in the workflow).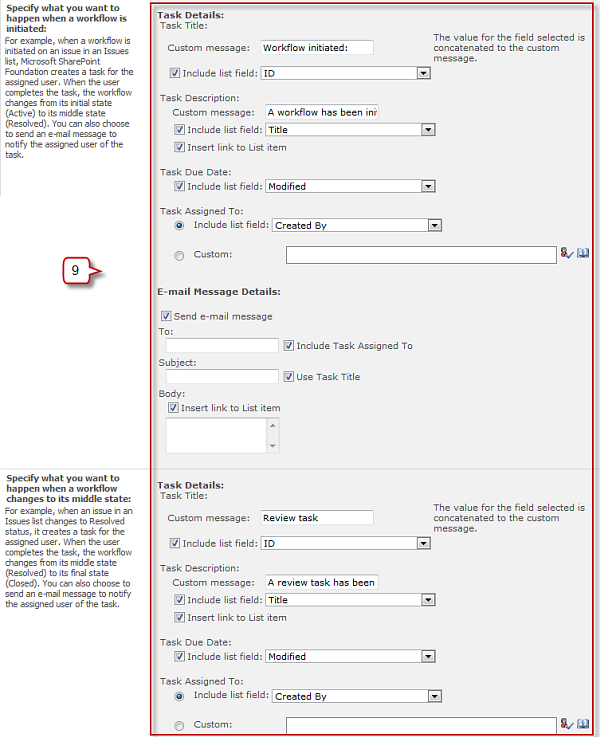 10. Select the Send e-mail message check box if you want the workflow participants to receive e-mail alerts about their workflow tasks. Then Click [OK].