Content types enable organizations to organize, manage and handle content more effectively across a site collection. By defining content types for specific kinds of documents or information products, an organization can ensure that each of these groups of content is managed more effectively.
If you have a list or library that is set up to allow multiple content types, you can add content types to this list or library from the group of site content types that are available for your site. Before content types can be added to a list or library, first the list or library must be set up to allow multiple content types. (You must at least have the Design permission level for that list or library).
1. From your SharePoint team site, click on list or the library from the Quick Launch. (If the name of your list or library does not appear, click [Site Actions] -> [View All Site Content] and then click the name of your list or library).
2. For lists, click the [List] tab on the Ribbon. Then click [List Settings] on the Ribbon.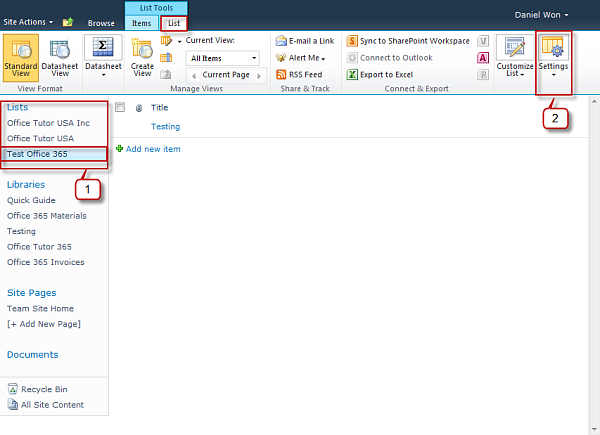 OR
3. For libraries, click the [Library] tab. Then click [Library Settings].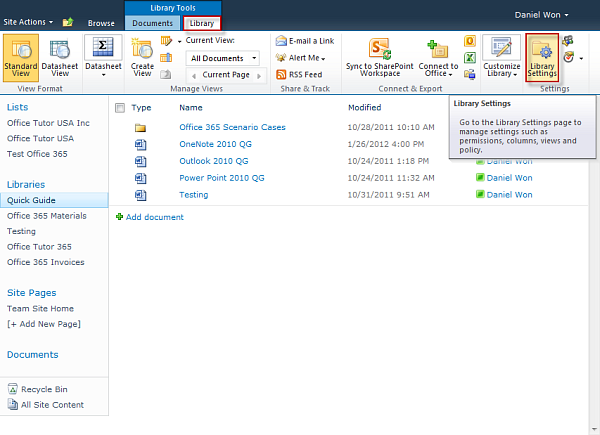 4. Under [Content Types], click [Add from existing site content types].
5. In the Select Content Types section, in the Select Site content types from list, click the arrow to choose the group of site content types from which you want to select.
6. In the Available Site Content Types list, click the content type that you want, and then click [Add] to move the selected content type to the [Content types to add] list. Click [OK] when finished adding all the content types.