People have different work schedules depending on the industry they are in. You can choose the days of the week that are a part of your work week, the time when your work day starts and ends, and the day of the week that you want to be the start of your week.
To change your work days and times,
1. Go to [File] tab -> Click [Options]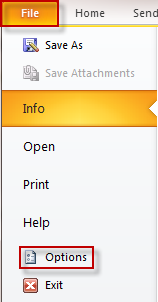 2. Click [Calendar],
3. Under Work time, you can change your work hours, set your work week, set the first dat of the week and set the first week of the year. Click [OK] when finished.