A whiteboard is a blank page for notes, drawing, or imported images that meeting participants can work on together. When the meeting is over, you can save the product of your collaboration.
i. Open a new Whiteboard
You must be a meeting presenter to open a whiteboard. If you are not a presenter, the presenter can appoint you to be one. Everyone in the meeting can work on the whiteboard.
To open white board, click on [Share] -> [New Whiteboard]. A blank whiteboard opens on the meeting stage (right pane of the meeting window).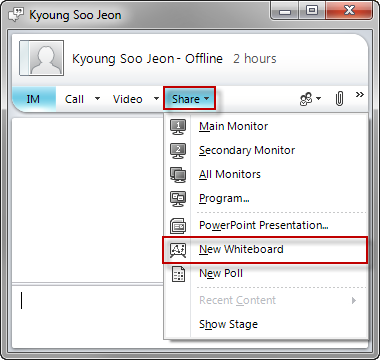 TIP*** If a presenter opens another whiteboard or begins another sharing activity, this whiteboard will automatically close but be available in the Content List for use later in the meeting.
ii. Adding contents to a Whiteboard
You can use the tools along the bottom of the whiteboard to add content. Although several participants can use the tools at the same time, only one tool can be used each time.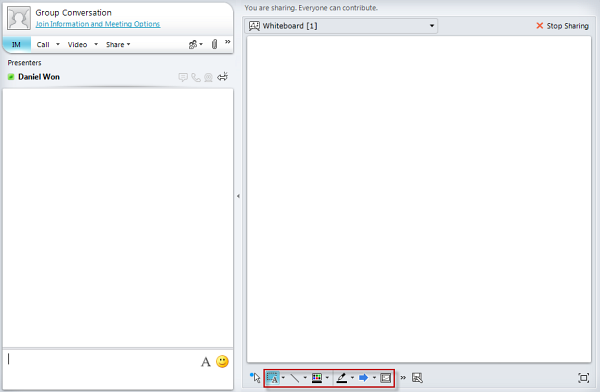 iii. Determine who added or changed the content
To see who added or changed content on the whiteboard, you can choose from following options.
– For non-text items on the whiteboard, hold the mouse pointer over the content to see "created by" and "Last modified by information.
– For typed text, point at the text and then hold the mouse pointer over the solid rectangle that appears above the text when you point at it.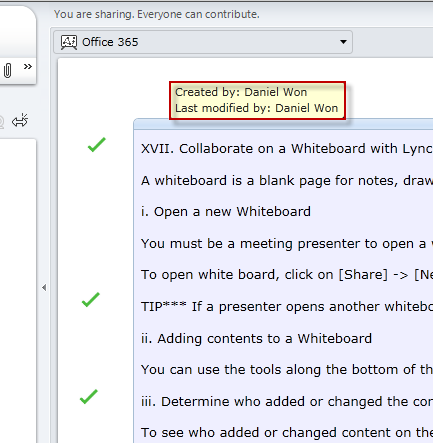 iv. Rename the Whiteboard
It becomes useful to name whiteboards during a meeting so that the group acknowledge which whiteboard you are referring to when switching back and forth.
Click the down arrow at the top of the stage, click the arrow next to the whiteboard you want to rename, and click [Rename].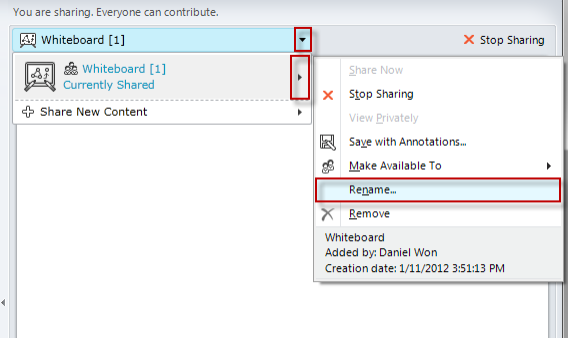 v. Reopen the Whiteboard
If the stage is not open, you can do so by clicking on [Share] and click on [Show Stage]. On top of the stage click on the down arrow -> Choose the white board to share and click on the side arrow and select share now.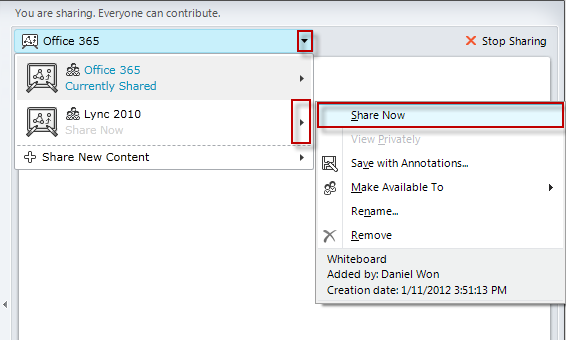 vi. Privately view a closed whiteboard
You can refer to a closed whiteboard without sharing it with the other attendees. At the top of the stage, click [Content List], click the arrow next to the whiteboard you want to view, and then click [View Privately].
vii. Save the Whiteboard
Save the whiteboard to your computer to access your collaborative work after the meeting is over.
Click the [Save] button, type a file name, and then click [Save].