With Lync Online meetings, you can use participant and content management options for a productive and distraction-free meeting. Lync provides various options to manage participants such as show or hide participant's list, mute or unmute participants, and invite others to the meeting. Content management with Lync makes it easier to run a meeting by having capability to upload or prepare content before the meeting, share a program or your desktop, upload attachments and etc.
i. Attending a meeting
1. Double click on the meeting on your Outlook calendar. [Meeting] tab -> [Online Meeting] group -> and click on [Join the meeting] or you can click on the link to join the meeting.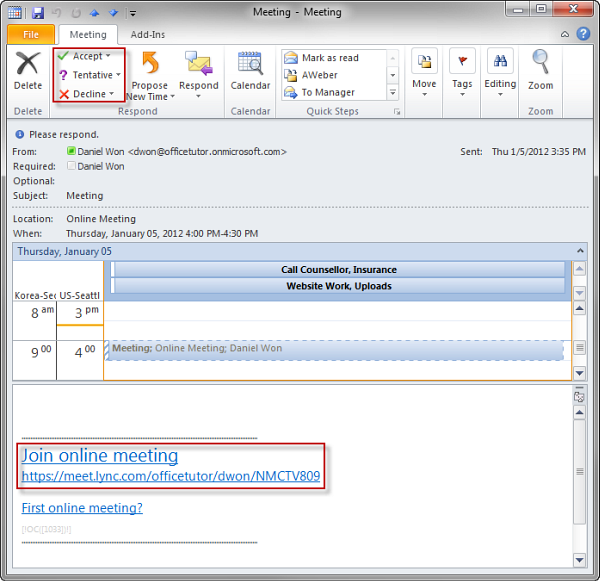 ii. Admit or deny access to people in lobby
The meeting lobby only works for participants that connect to the meeting using VoIP. Participants that dial into the meeting using their phone will bypass the meeting lobby.
1. To admit or deny access, go to the participant list -> [Lobby] -> click [Admit All] or [Deny All].
2. You can also go to each person's name and click [Admit] or [Deny].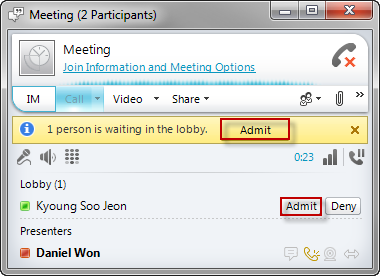 iii. Change presenter or Attendee privileges during the meeting
1. In the participant list, right-click one or more participants, and then click [Make a Presenter] or [Make an Attendee] as appropriate.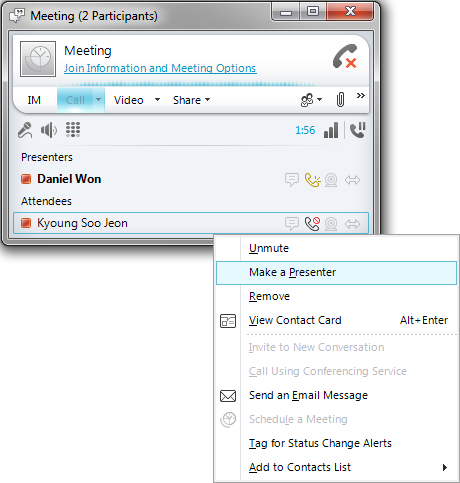 Or
2. Click the [People Options] menu and the click [Make Everyone an Attendee].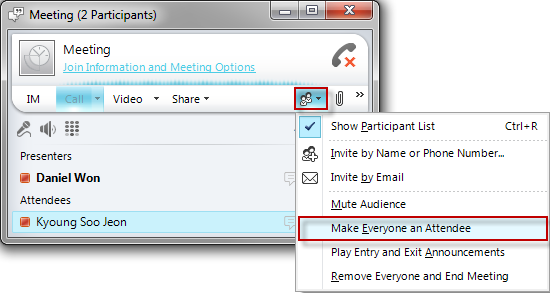 iv. Mute or Unmute Participants
To manage audio for one or more individuals, right click the name or names in the participant list, and then click [Mute] or [Unmute].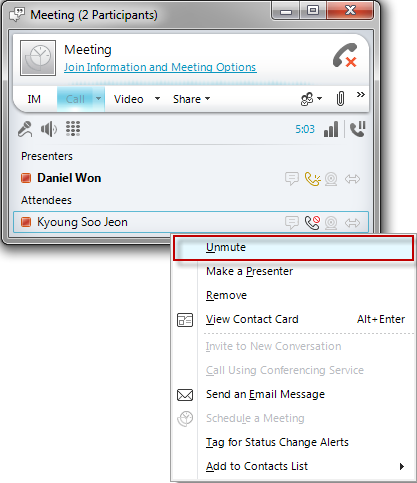 TIP*** When you unmute a participant, a notification is sent to the participant informing them that a presenter wants the unmute.
v. Show or Hide the Participant List
Although it is better to keep the participant list in view, in case you would like to show or hide the participant list go to the conversation window, click the People Options menu, and then click [Show Participant List].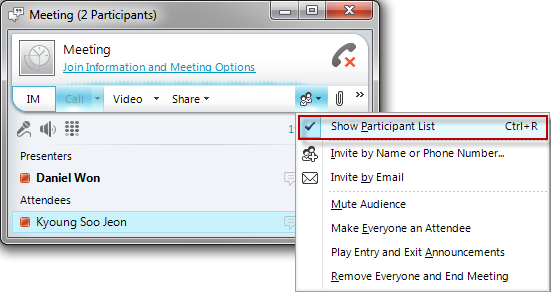 vi. Instant messaging with a participant
If you need to communicate with a participant during a meeting, you can either double click on the participant or place your cursor over the name and click on the message icon.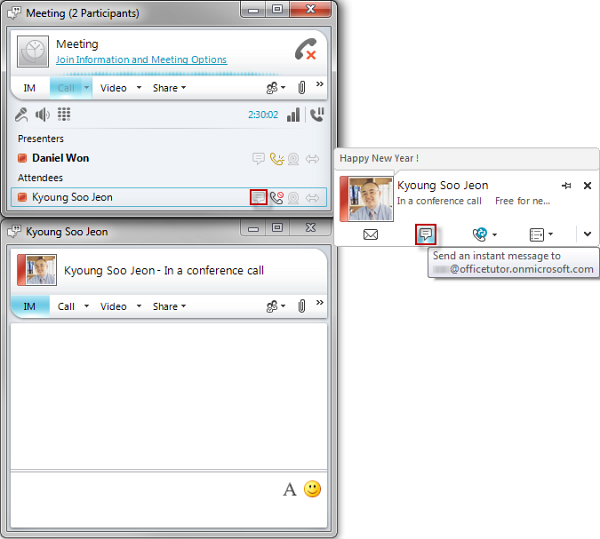 vii. Switching to Video call or instant message.
If you wish to switch to video call during your meeting, click on the [Video Call] to switch or click on the IM button to message your participant.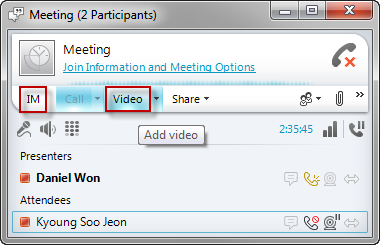 viii. Invite Others to the Meeting
Click the Peoples Options menu, and the click [Invite by E-mail] or [Invite by Name or Phone Number].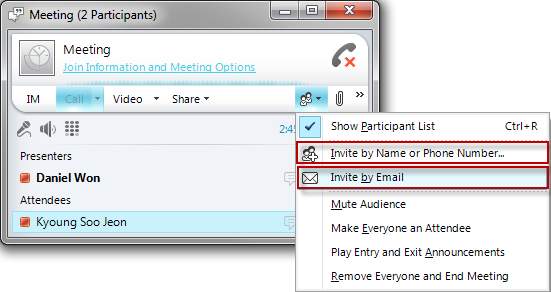 ix. End or exiting the meeting
1. If you want to leave the meeting but keep it going, close the conversation or meeting window.
2. If you want to exit and end the meeting, go to the conversation window, click the People Options menu, and then click Remove Everyone and End Meeting.