You may sometimes get duplicate contacts from saving the same contacts twice, or while you are importing contacts into Outlook. Follow these next steps to remove the unwanted duplicate contacts.
i. Delete duplicate Contacts
1. Go to [Contacts] and select the contacts folder that has duplicate contacts.
2. On the [View] tab, in the [Current View] group, click [Change View], and then click [Phone].
***This is the best view to scan your contacts list and see the duplicate contacts. Now you can sort the list by modified date and group the duplicates together.
3. In the list of contacts, hold down [CTRL] while you select each duplicate contact. And press [Delete] when you are done.

ii. Turn off the duplicate detection feature
1. Go to [File] tab -> [Options].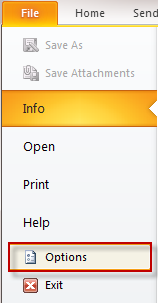 2. Click [Contacts], and under [Names and filing], clear the [Check for duplicate contacts when saving new contacts] check box.