A permission level on SharePoint is the right you can grant to a person to do something on your SharePoint site. Depending on the permission level, you can view, create, delete or edit something. There are three kinds of permissions.
o List permissions give people the right to do things with lists and with list items, such as adding or deleting lists, adding or deleting columns in lists, or adding or deleting items in lists.
o Site permissions give people the right to do things at the site and subsite level, such as adding pages or subsites, or managing permissions for other users.
o Personal permissions give people the right to manage their own personal view of the site, creating personal views of lists, libraries and add or delete personal Web Parts.
You never assign a single permission to a group or a person – instead you assign permission levels.
All the default security groups (such as Visitor, Member, and Owner) are assigned default permission levels (such as Read, contribute, and Full Control)
The most commonly used default permission levels are designed to build on one another:
o The Read permission level has the least permission.
o The Contribute permission level includes all the permissions in the Read level, plus more.
o The Full Control permission level includes all the permissions in the contribute level, plus some more.
Review the Permission levels on your site
1. Go to [Site Actions] -> and then click [Site Settings].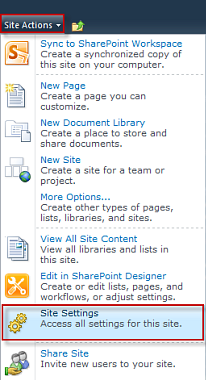 2. From the [Site Settings] page go to [Users and Permissions] group – click [Site Permissions] to see the permissions page.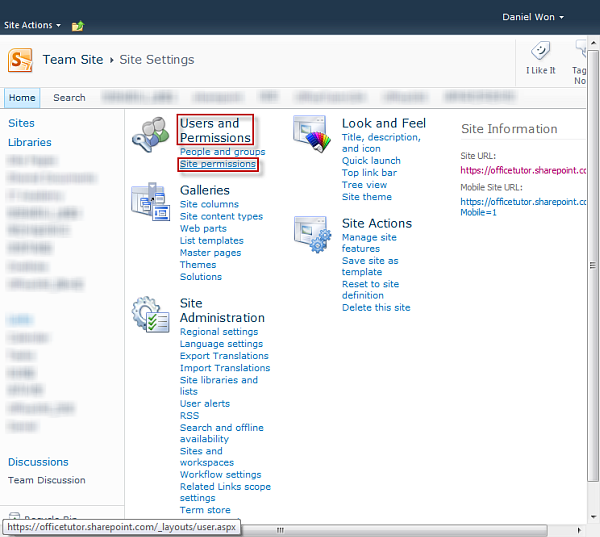 3. On the ribbon menu, click [Permission Levels].
4. To edit the name, description, or specific permissions that a permission level includes, click the name of a permission level in the Permission Level column.