All of the tasks involved with a workflow are recorded in the tasks list that is associated with the workflow. The tasks list for a workflow is designated when the workflow is added to a list, library, or content type. A workflow can use the default Tasks list for the site, or it can use a custom tasks list that is unique to the workflow.
If a workflow records all workflow tasks in the default Tasks list for a site, you can use the [My Tasks] filter to locate and view your workflow tasks.
1. Click Tasks to view the tasks for the site. If the Tasks does not appear on the Quick Launch, on [Site Actions] menu, click [View All site Content], and then click [Tasks].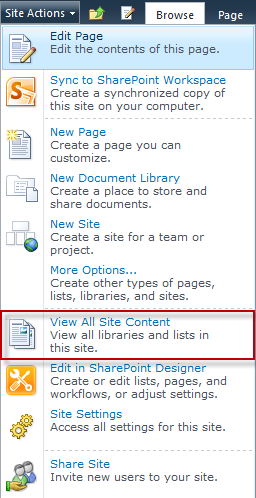 2. Go to [List] tab -> [Manage Views] group, click the [Current View] down arrow and select the view that you want, such as [My Tasks].